If you've just had a win and fancy making a withdrawal to bank those winnings, we explain below how to process a withdrawal in a few quick and easy steps.
Making a Withdrawal:
Navigate to the balance display on site, located in the upper right corner. 
·        Click on the drop-down arrow to the right of your balance. 
·         From the drop-down menu, select the option to withdraw.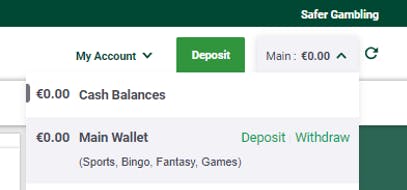 Alternatively, you can navigate to My Account > Payments > Withdraw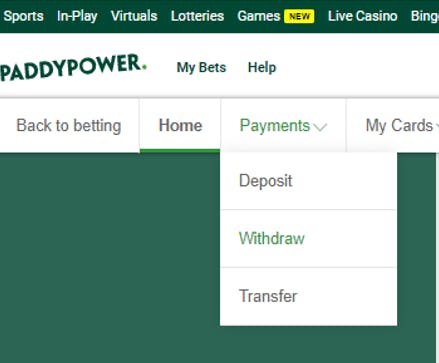 You can switch between Card withdrawals, and Alternative Payment Method (APM) withdrawals. 

For either option chosen, from the right-hand side of the selected method, enter the desired amount you wish to withdraw and click the withdraw button to confirm. 
Important notes: 
You can only withdraw from your Main Wallet. If you've got funds in another wallet (Poker account) you'll need to transfer those funds back to your Main Wallet.
Card withdrawals typically take 2-5 working days to reach your bank, however weekends and bank holidays are not deemed working days which you'll need to consider when working out when you'll receive your payment.
Visa Direct/Fast Fund withdrawals enable customers to withdraw their funds instantly or within 2 hours.
What is Closed Loop?
"You must withdraw to each payment method at least the total amount deposited, before you are able to withdraw any 'additional' winnings via another chosen payment method"
Under the closed loop policy customers must withdraw the same amount as deposited to payment methods before they can withdraw any additional funds (winnings).