Net Deposits are the difference between the Total Deposits and Total Withdrawals you've made for a particular payment method - such as a debit or credit card. The Net Deposit figure is worked out simply by taking the Total Withdrawals amount from the Total Deposits amount.
If you have deposited more than you have withdrawn to a payment source you will have positive Net Deposits.
If you have withdrawn more than you have deposited to a payment source you will have negative Net Deposits.


Example: Total Deposits of £3,050 minus Total Withdrawals of £3,000 equals Net Deposits of £50. This is a positive Net Deposit figure.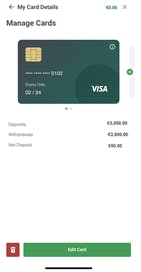 Each payment method you use on your account will have a separate Net Deposit figure. If you've got more than one payment method registered with positive Net Deposits it will impact how you can withdraw your funds. Take a look here for more info.
Please be aware we are currently unable to display net deposit figures for e-wallets. If you would like to know what your e-wallet net deposit is, then please contact our Customer Service Team.