What is an each way bet?
An each way bet is two bets in one. You are betting on your horse/greyhound etc to win the race and for it to 'place'. Placing means it hasn't won the race but it has finished in the places we pay out on. The number of 'places' we pay out on depends on the number of horses in the race and you will be able to see this information near the top of the market before you add your selection to your Betslip (just before we list all the runners):

In the above example, we are paying out for first and second place only (1,2). If your horse/dog finishes in one of these positions, the place part of your bet will be paid at 1/4 of the odds on your betslip.
How to Place an Each Way Bet
You can place an Each Way Bet with Paddy Power in a few clicks.  Once you have made your Horse selection (read our How to Place a Bet article if you are not sure how to do this) you need to tick the each way box on the bet slip: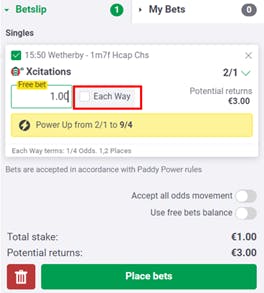 By selecting the Each Way box you will double your total stake as you are ultimately placing two bets: one for the horse to win and one for the horse to place (see 'What is an each way bet' above):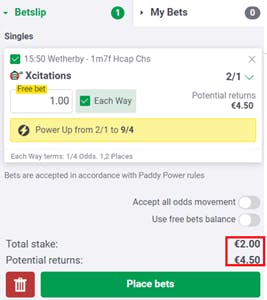 Why haven't I won as much as I thought I would?
This could be for a number of reasons:
A horse pulled out of the race (non-runner) and a rule 4 deduction has been applied
There was a dead heat
You weren't eligible for best odds guaranteed
You placed an each-way bet and not a win only bet. This information will be on the bet receipt.
You may have miscalculated the returns. You can double check the returns due here.
I've placed an each way accumulator or multiple and don't understand the outcome?
The important distinction to make with each way accumulators or multiples is that an each way bet is still only 2 bets - 1 for ALL selections to win and 1 for ALL selections to place. This means that if one of your selections does not go on to win or place - the whole bet is lost.
For example, if you were to place a 6 horse each way accumulator and 5 horses won while the 6th horse placed – Your place accumulator would be a winning bet at reduced odds but as not all your horses finished in first place, the win accumulator would be a losing bet. This would then affect the total amount paid out to you.