How to place a single bet
In order to select your bet: log in and if you are using the mobile app either scroll across the icons under the page header to find the Sport you wish to place your bet on:

Or, you can select 'Find' in the footer and select your sport from the 'Browse All' section.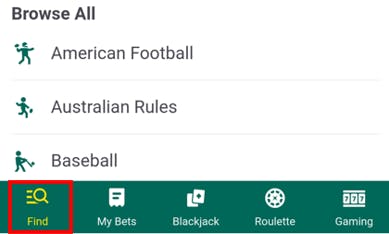 If you are using browser, all sports are listed in the menu on the left hand side of the home page.
On browser or mobile, once you have selected your sport, choose the tab you wish to make your selection from (e.g. In-Play, Accas, Competition etc)

Then you can scroll down to find the event you wish to place a bet on.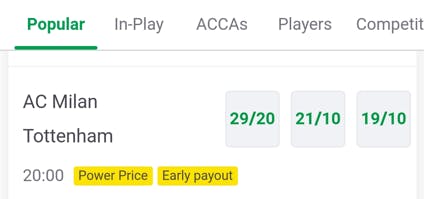 If you click on the event name (in the example above this is where it is written 'AC Milan Tottenham' it will bring up more options. However, you can make a quick selection on a winner or the match to be a draw. In the above example, AC Milan are 29/20 to win (as they are the home team and the first team displayed) and Tottenham are 19/10. If you select 21/10, this is the odds on the draw. For more information on how odds work read our article here.  
If you choose to see more selections by clicking on the event name, you will be presented with more tabs at the top of the page so you can select a market to bet on:

Once you have made this choice, scroll down the page until you see the bet you wish to place:

Select the odds (3/10) and this will add the bet to your Betslip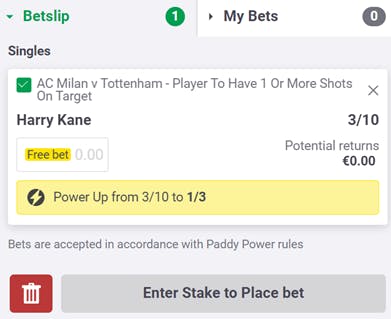 From here you can enter the amount you want to stake:

And if you have any free bets, you can decide whether or not you want to use these or place a bet using your cash balance: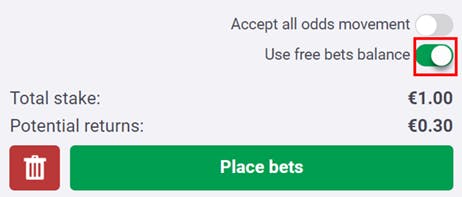 Once you are happy, select 'Place bets' and you will receive instant confirmation that this has been placed: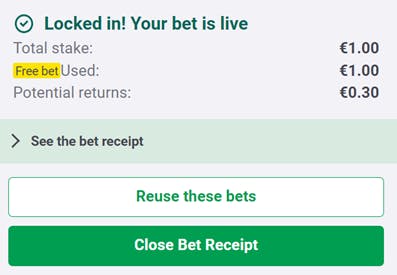 How to Place a Multiple Bet
To make a selection, follow the steps above under the section 'how to place a single bet' but before you place your bet, add all selections to your bet slip: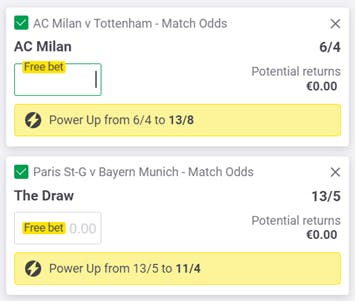 If you then scroll down on your bet slip past these, you can make the above bet a double by placing your stake in this box under the 'Multiples' header (in a double both bets need to win in order for you to claim your winnings but this increases the odds so you win more if you are successful). For more information on Bet Types read our article here.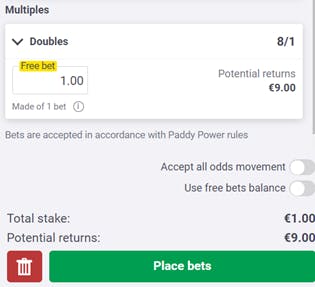 The new odds will be displayed within this section and again, if you are happy select 'Place Bets' and await your confirmation the bet is 'locked in'. The same method applies for a treble/Trixie/patent etc, just check the multiples section of your bet slip and make sure you place your stake in the right box.
How to Place an Accumulator Bet
An accumulator is just a multiple bet where you want to include 4 or more selections. As a result, the exact same principle of placing this applies as outlined in the above section 'How to place a multiple bet'
How to place a Bet Builder bet
Bet builders allow you to combine bets from the same game (E.G. AC Milan to beat Tottenham and Harry Kane to have 1 shot on target).
Make all your selections as per the 'How to Place a Single Bet' section at the top of this article but do so from the same event.
Once these have been added to your bet slip, make sure you enter your stake in the Bet Builder section of the slip: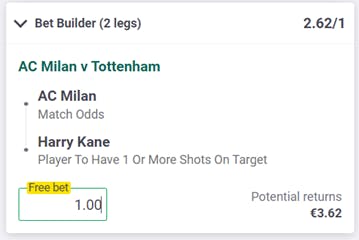 If you are not presented with the above 'Bet Builder' section then you have made selections from separate events.
If your bet is not possible to compute, you will have a red error message in your betslip. Eg. Under 2.5 goals, and a player to score a hat-trick cannot be combined, as they cannot both happen in the same game.