Free bets are bonuses that you can use to place a bet in part or full, up to the total value of the free bet bonus you have been awarded.
If you are unsure which market and bets you need to select to make use of your sports free bets, please refer to the Terms and Conditions of your free bet.
For mobile guidance on how to place a free bet or how to find information on your free bets, click here.
Locating Free Bet T&Cs
Step 1. Next to your balance on the top right, click the downward arrow to show a breakdown of your available balances.
Step 2. Your available free bets will be listed here under 'Promotion Balances' and clicking 'View details' will bring you to the My Bonuses page.
Step 3.  On the My Bonuses page. click on 'View Bonus/T&Cs' to navigate to the details for this offer.
Step 4.  You will now see the Terms & Conditions and progress made towards your free bet.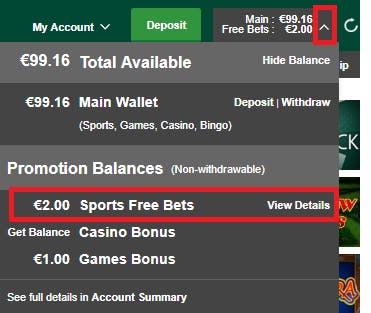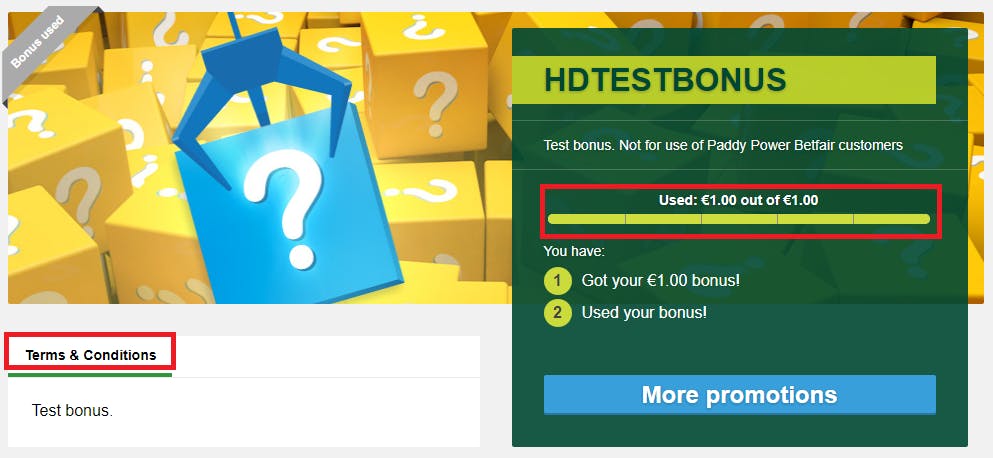 Using a free bet
To use your free bet, simply add your selections to the bet slip as normal and click the 'toggle' to use your available bonus/free bet when confirming your bet.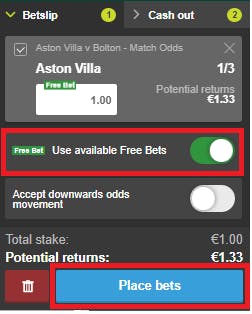 Important notes:
If your bet wins, your profit will be transferred into your main wallet. The original free bet stake is not returned to you.
If your total bet stake is larger than the value of your available free bet, the remaining bet value will be made up of your real cash balance where possible