Our aim is to offer you the greatest customer experience possible and ensure that you are fully satisfied with the products and services we offer. However, we recognise there may be occasions where we may not be able to meet your expectations. If you are not happy with the service provided you can raise your concerns with our Customer Services team.
You can contact the Customer Services (CS) team via Live Messenger here, where you will be able to discuss your query or issue with one of our CS Agents. Our agents will be available to investigate and resolve your queries and will provide you with a resolution or an answer on chat. In some cases, where the CS Agents will either be unable to resolve your query immediately, or where you are dissatisfied with the resolution provided, your query will be escalated to our Escalation Management Team (EMT) for further review and consideration. 
Following review and investigation, our EMT Team will provide you with a full response. 
Escalating a query or issue as a complaint

If, following a full response from the EMT, you remain dissatisfied with the outcome, then your query will be considered as a complaint and you will be able to escalate your complaint to our Customer Champion team, a dedicated team dealing with customer complaints, appeals and disputes. 
There are 2 ways by which you can escalate your complaint:
1.       The EMT team will offer you an internal escalation
2.       You will escalate independently through the Complaints Portal
Internal Complaint Escalation through EMT
During your conversation with EMT, at the point where  you remain in disagreement with the final response, you will be offered an internal escalation. This means that the EMT team will collate the details of your complaint and escalate to the Customer Champion Team on your behalf. Should you wish to have your complaint escalated internally, all you need to do is confirm this with the EMT and they will take care of the rest!
Once your complaint is raised, you will receive a confirmation email from the Customer Champion Team within 24 hours. The email will provide you with your Complaint Reference Number and a response SLA for your complaint.
Independent Escalation through the Complaints Portal
In cases where you would like to address your complaint independently, at the point EMT offer an internal escalation you can simply decline. In these cases, the EMT will guide you on how to escalate your complaint through Paddy Power's Complaints Portal. The EMT Team will also provide you with a Ticket Number which you will need in order to engage with the Complaints Portal. Without this number, you will be redirected to Customer Services, as such it is important that you take note of the ticket number and keep it recorded somewhere safe.
In order to escalate a complaint, you will need to access the complaints portal by clicking here, and the internal complaints procedure will commence. You will be asked a series of questions to assist you in escalating your complaint correctly. Please follow the prompts throughout and provide all details requested.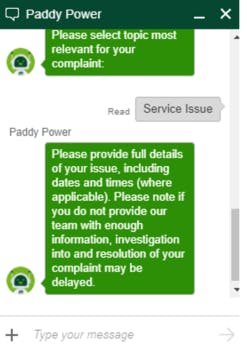 Your complaint will be reviewed independently by our team and a full investigation will be carried out. Following a thorough review of your complaint, you will be contacted with a final response. This will be deemed Paddy Power's final position on the matter. Following this, no other Paddy Power teams or representatives will be able to review your complaint and we will not be able to enter into any subsequent discussion or review the complaint again. 
What if I don't agree with the final position?

In those situations where you disagree with Paddy Power's final position, your next step would be to escalate your complaint to an independent alternate dispute resolution service (ADR). Paddy Power's approved ADR is the Independent Betting Adjudication Service (IBAS), however you can also escalate your complaint with the European Union Online Dispute Resolution (ODR). 
Should you require to take this step, you will need to request a deadlock email from our Customer Champion team, however, please note that this will only be issued in the instance that all internal avenues of resolution have been exhausted and a deadlock remains. 
The deadlock email will include:
Unique Dispute Reference Number
Details of Complaint
Investigation Conducted
Paddy Power's final position
Information on how to escalate to an ADR. 
Please note that, should you approach an ADR without the above information, you will be directed to our Customer Services teams. 
Where can I obtain more information on the ADR processes? 

To read more about our approved ADRs, what they do and how they manage disputes, you can visit their respective pages, linked below. 
IBAS: https://www.ibas-uk.com 
EU ODR: https://ec.europa.eu/consumers/odr/main/?event=main.trader.register 
You can also visit our Dispute Resolution Page on our terms and conditions for further detail.