We want to ensure that our customers always enjoy their experience when they visit paddypower.com. Our aim is to implement an element of fun with our products and services, that's why we ask you to bet responsibly. Betting can be great entertainment, provided you stay in control. We will always endeavour to help you if you find yourself in difficulties.
To help you bet sensibly we have put in place a number of measures to assist you.
Account History
Customers can view their transaction history in the ' section of the site, where they will see:
A full overview of all transactions they have placed
The amount staked on each transaction
Current balance for the channels they are active in
A responsible gambling overview and how to set limits on your account
To Access your Account History follow these Simple Steps:
 Step 1. Click on in the top right corner of the home page
 Step 2.  again from the drop down menu.
 Step 3.  from the navigation bar along the top then click from the drop down menu.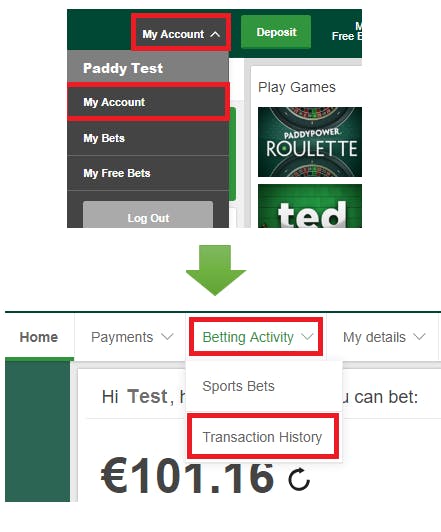 Deposit Limits
You can set a limit on the amount you can deposit in a given period of time, this includes daily, weekly and monthly options.
For information on how to set a deposit limit on desktop click here. Alternatively on mobile, click here.
Loss Limits
Loss limits for betting start from the moment they are first set. They run for the time you choose (day, week, month or year) and then they are automatically re-set and begin again.
For example:  if you set a loss limit of £100 (€100) per week around Monday mid-day, your losses will be tracked from that point and you will be prevented from losing more than £100 (€100 until the following Monday. Then the loss limits will be re-set for the following week.
Unsettled bets will also be counted towards your loss limit. If you cannot place a bet, please check that your unsettled bets would not cause you to hit your loss limit.

If you try to remove or increase your limit, it will only take effect if you confirm this change after 7 days (see more info here on how to confirm your limit changes). Any decrease in the limit will be applied immediately.

Loss limits cover net losses (taking winnings into account) on the sports betting products, Virtual Sports, Games, Bingo and Vegas.
We offer different loss limits
Global – All products included
Gaming – Includes Casino, Games & Bingo
Loss limits have the same time options as deposit limits with one additional option for yearly limits.