How do I get a Play card?
Playcards are available in all Retail Stores across Ireland and the UK. Simply ask a member of staff in one of our Paddy Power shops for a Play Card – it's that easy.
Once you have your Play Card, you just need to link and activate your card the card.
How do I link & activate my Play card?
Step 1: Visit My Account when logged in to the Paddy Power app and select 'Cash Card & Play Card'.
Step 2: Follow the on-screen instructions as seen in the image. The card number can be found on the back of the Play Card.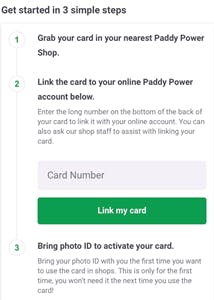 Step 3: When you have successfully linked the Play card to your account, you will need to activate the card by presenting it in shop and a friendly staff member will help you to set up a PIN number. Then you're good to go!
How do I place bets with a Play card?
You can either bet at the counter or on a self-service betting terminal.
At the counter:
Take your bet and your Play Card to the counter and let our friendly staff know that you will pay with your card. Once the staff member has processed the betting slip on their side, they will then instruct you to tap or swipe your Play Card. The bet will be paid for from your Paddy Power balance. This bet will be viewable in the "My Bets" section of your Paddy Power account.
Self-Service Betting Terminals:
Press the 'Play Card' tab on the main screen. This will direct you to a screen where you have two options:
1. Typing in the long card number of the Play card
2. Scanning the barcode of the Play Card at the terminal
The next step is to enter the pin number of your card on screen.
Your Paddy Power balance will then become the balance of the Self-Service Betting Terminal and you can begin to place bets on the terminal using your Paddy Power balance. Bets placed on a Self-Service Betting Terminal will not be viewable in the "My Bets" section of your Paddy Power account.
When finished placing your bets please remember to log out of the terminal you are using. The terminal will log you out automatically after a period of inactivity.