Touch Login allows you to use your fingerprint to login to your Paddy Power account. You must update to the latest version of our iPhone App to use this feature. It is only available to iPhone users using the following devices:
iPhone 5S or later.
iPad (5th generation).
iPad Pro.
iPad Air 2.
iPad mini 2 or later.
iPad Air 2.
First you need to make sure Touch ID is active on your iPhone. To do this please follow the below instructions:
Once this is complete you can go to the Paddy Power App and set up Touch Login. You can set up Touch Login on the Paddy Power App by following these simple steps:

How to Login using Touch ID
After you have activated Touch Login on your device you will be able to Login to the Paddy Power app using Touch ID. When you enter the Paddy Power App you will be asked to scan your fingerprint to login. The message will appear in a pop up like this: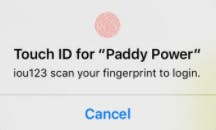 How to turn off Touch Login
If you wish to turn off Touch Login, simply tap the 'Use Native Login' toggle bar on the settings screen to the default mode.