Virtual Sports betting works the same way as our sports product except its Fixed Odds. You will not see the price changing. The process of placing a bet is the same as it is on our sports betting.
Please note that live TV broadcasts can be delayed and others may have more up to date information.
From time to time you will lose connection whilst playing on Paddy Power. This could be due to many things. An Internet Service Provider outage, a problem with your device or a server interruption to name a few.
When placing a bet on Paddy Power you may lose internet connection. At this point your bet may still place.
You may receive the following pop up.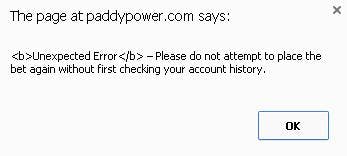 Please do not attempt to place the bet again before checking your account history. Go to My Account and check whether your bet was placed. If you do place the bet multiple times, the bets will stand and will be settled on the result. The only way you can place multiple bets on the same selection is by confirming it numerous times. If you are experiencing connection issues more frequently. If your bet wasn't placed, you can try again, but first delete your cookies.