I bet on a non-runner, what happens to my bet?
Sorry to hear that! We hope the below information helps:
Bets placed on Future Racing will be settled as a losing bets.
Bets places on Non-Runner Money Back markets will have their stakes returned once the non-runner is declared.
If you have placed an accumulator, the line related to the non-runner will be void, and you will not receive your stake for that line back. The rest of the lines in the accumulator will still stand.
What does non-runner, money back mean?
NRMB is our safety guarantee to you. Place your bets without worrying about your selection not running.
Future Racing betting ceases at 10am on the day of the overnight declaration stage and all bets placed after that stage will be 'non-runner money back', ie. your bet stake will be refunded if your horse fails to compete. Tattersalls Rule 4 may apply.
Paddy Power offer Non-Runner Money Back on selected Future Racing races all year-round. After a race becomes Non-Runner No Bet, any Future Racing bets placed on the Win or Each-Way market will be refunded if your selection does not run.
This refund will apply to bonus cash and free bets, as long as the free bet was not due to expire before the refund is issued.
I have a Power Price bet with a non-runner, what happens?
Unless your Power Price was placed under Future Racing (Antepost) rules, your non-runner leg will be voided the same as a regular non-runner money back bet.
Power Prices on single horses will be void, your stake will be returned to your account.
Power Prices on multiple selections will be repriced to reflect one fewer leg, the remaining selections will be settled at their Starting Price, unless otherwise stated.
I have a multi with a non-runner, what happens?
If you've placed a multiple bet, such as a Double, a Yankee or a Lucky 15 and one of your selections is a non-runner, your bet still stands, it is just settled without the non-running selection. So if you placed a Treble, this will become a Double. If you place a Double, this will become a single.
Example:
You make four selections (A, B, C and D) and place a Lucky 15. D pulls out, so what happens now?
Well, you get your single unit stake back for D not running and then all multiple bets that include D are reduced accordingly.
So, your four-fold of A, B, C and D becomes a treble of A, B and C.
Any treble including D becomes a double and any double with D becomes a single.
The same logic applies to all mutiple bets. For those bets that do not include singles (such as a Yankee) then there are no refunds with one non-runner.
How will I know if my horse is a non-runner?

In the race-card, any selections which have been declared non-runners will show as NR

In your betslip, the selection will show as a V (void)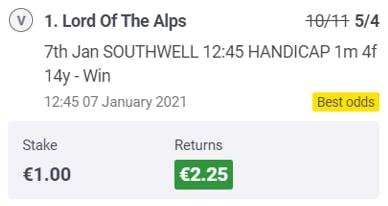 Another horse in the race was a non-runner, why has my win paid out for less?
When you place your bet, the price you see is based on all horses running in the race. If a horse is a non-runner, the price will be revised and a deduction applied for the remaining horses.
Paddy Power treats non-runners the same as every other bookmaker, by applying a 'Rule 4'. The 'Rule 4' deduction values are industry standard, deductions are measured by a number of pence in the £, based on the odds of the horse at the point of withdrawal.
For more about Rule 4s, see here.