Once you are over the age of 18, you can open a Paddy Power account for free!
How you Register a New Account with Paddy Power
To open your Paddy Power account, follow these simple steps:
 Step 1. On the Paddy Power website or Paddy Power App click on the 'Join Now' button. This can be found towards the top right of the page.
 Step 2.  Enter your personal details as requested, and enter your username/email address and password. We recommend you choose a password that contains numeric, alphanumeric, lowercase and uppercase characters, and at least one special character to ensure that you create the most secure password possible.
 Step 3. Choose carefully your security question and answer. These will be important when interacting with our Customer Service Team.
 Step 4.  Choose if you wish to be contacted by Paddy Power.
 Step 5.  Read our Terms & Conditions, Betting Rules and Privacy & Cookie Policy. If you are happy with these, agree to them and proceed with account registration by clicking on 'Join Now'.  
To Register on the Paddy Power Desktop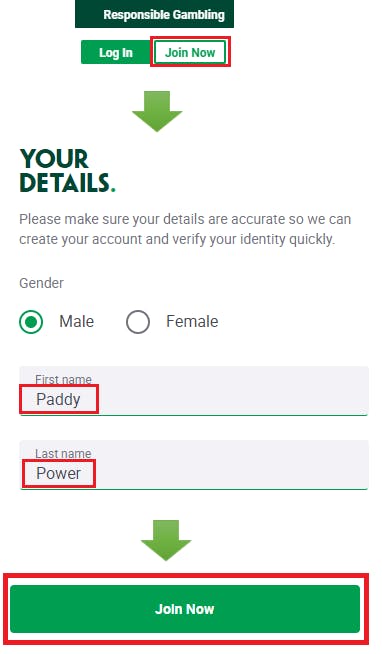 To Register through the Paddy Power App